As likes the Black Friday deals, the Double 11 sales festival is popular in China. Apart from the Double 11 discount extravaganza, the companies also celebrate summers with the 618 shopping festival. To celebrate the festival, the popular Chinese smartphone maker Uelfone has published its 618 Sale page. Various new offers and discount items have been unleashed after the Ulefone 618 Sale page went live.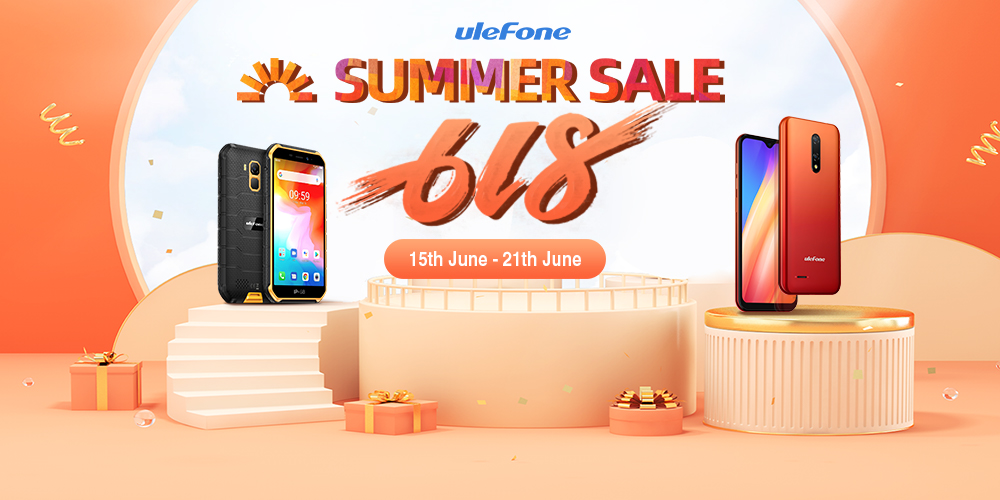 Ulefone will host 618 Sale from June 15 to June 21 with considerable and excellent discounts on most of its popular products. The company will put forth its Armor series on sales starting with the entry-level Note series. Furthermore, there will be Ulefone Armor X7 Pro and Note 8P like smartphones which will be part of the Ulefone 618 Sales festival. Below we are listing some of the best discounts available at the sale:
Ulefone Armor X7 Pro
Ulefone Armor X7 Pro is a rugged smartphone that was launched a few days ago with a 5-inch display, 4000 mAh battery. It is a fully 4G-rugged smartphone running on Android 10 OS. The smartphone is powered with Helio A20 quad-core processor and coupled with 4GB RAM and 32 GB internal storage. A beautiful 5.0-inch HD screen is present on the front, whereas there's a face unlock and fingerprint ID for quick unlock.
It offers contactless payments using NFC via Google Pay. Ulefone Armor X7 Pro will be on sale at the discount price of $79.99.
UleFone Note 8P
If you're looking for an entry-level smartphone at a super affordable price, then you can look after the Uelfone Note 6P. The smartphone is available for a quad-core CPU, 2GB RAM, and 16GB ROM. It runs on Android 10 Go Edition OS and focuses an 8-megapixel dual rear camera. The users can easily face unlocking the device.
In connectivity, the user will get a GPS navigation system and dual SIM dial stand. Ulefone Note 8P is available at a jaw-dropping price of $54.99 at 618 promotions sales.
The company is offering massive discounts on its best-selling smartphones. Similarly, Ulefone Armor 7E rugged smartphones with Helio P90 SoC is available for $219, which usually retails at a much higher price. A walkie-talkie rugged Armor phone 3WT is available for $247. There are many other attractive discounts that you might found useful. We suggest you head over to the event page to know more about the sale.
ALWAYS BE THE FIRST TO KNOW – FOLLOW US!