Huawei's new phones come along with a bunch of accessories that you should consider getting if you plan to pick up any of the new devices. The list of new accessories includes fast chargers, a power bank, and nifty cases.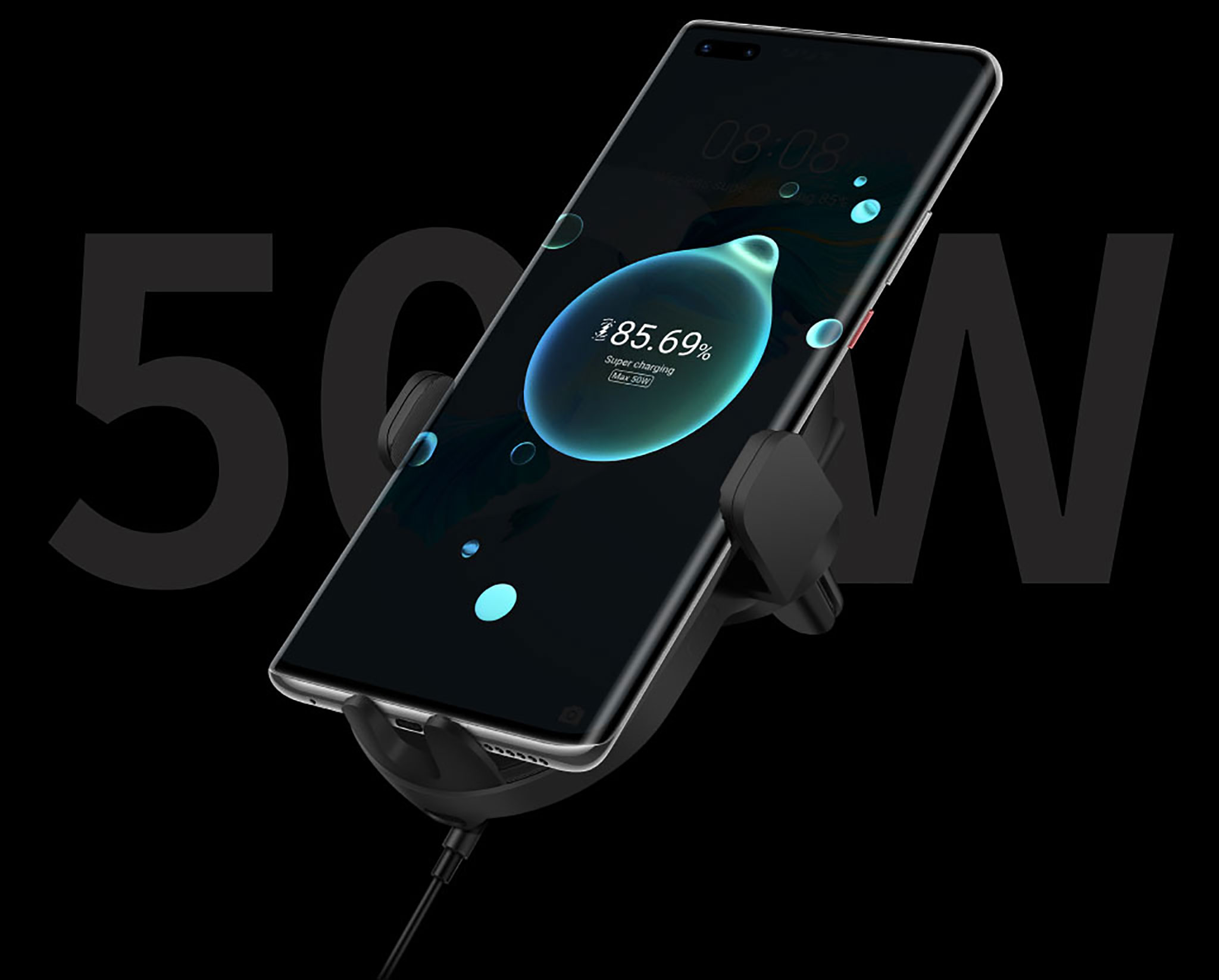 Huawei SuperCharge Wireless Car Charger and Huawei SuperCharge Car Charger
The Huawei Mate 40 Pro, Mate 40 Pro+, and Porsche Design Mate 40 RS all support 50W wireless charging. However, a wireless charger isn't included in the box and you have to purchase one yourself.
The Huawei SuperCharge Wireless Car Charger features upgraded proximity sensors on both sides that control the clamp, making it easy for users to mount and retrieve their phones. Huawei says the charger also has a power storage feature that allows you to keep charging your phone for up to 30 minutes after your car stalls.
The cigarette lighter adapter bundled with the SuperCharge Wireless Car Charger has an extra port with a 5V 2A rating, so you can connect an extra device such as a dashcam. The wireless charger itself has a DC input port and a USB-C input port.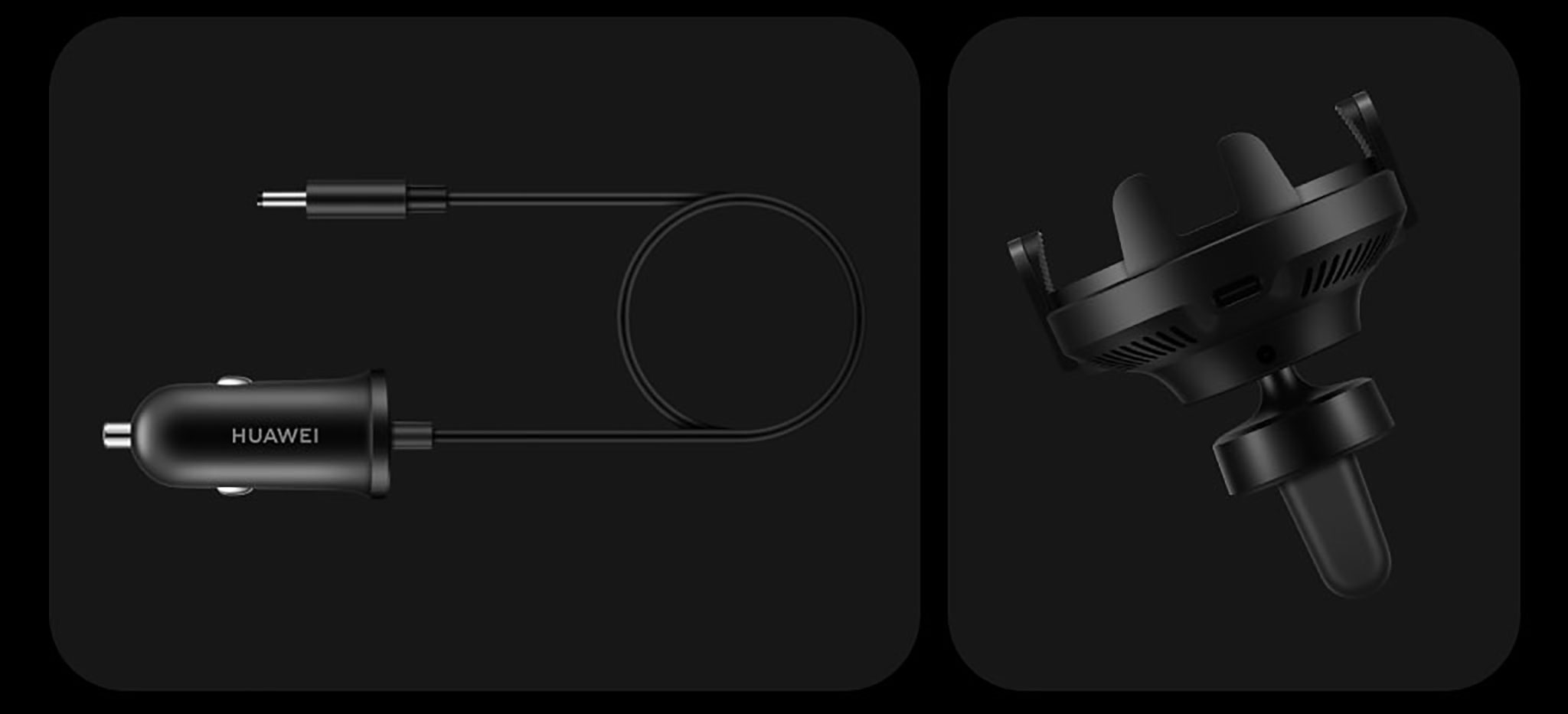 The charger features a 3D air cooling system that absorbs air to cool the charging coils, the stand, and your phone. Huawei claims the air volume has been tripled and the fan runs quieter than the previous generation. Worried about safety? The car charger is TÜV Rheinland-certified safe and has 15 layers of protection including overvoltage, under-voltage, overcurrent, and temperature protection.
The charger is not only compatible with Huawei's Mate 40 series but also works with the P40 series, Mate 30 series, iPhone 12 series, iPhone 11 series, Galaxy S20 series, Galaxy Note 10 series, and a bunch of other models.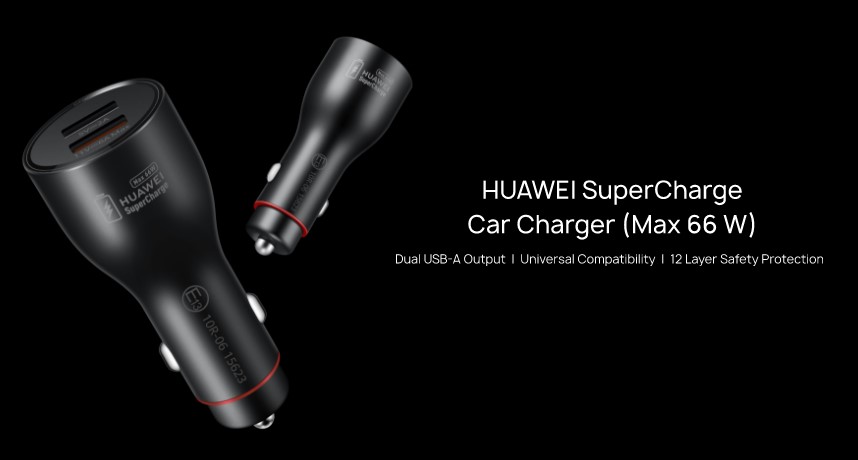 If wireless charging is not your style, then you can grab the 66W SuperCharge Car Charger to charge your new Mate 40 Pro/Pro+/RS phone even faster at 66W. The car charger which is clad in anodized aluminum has a ring light to make it easy for you to locate it in the dark.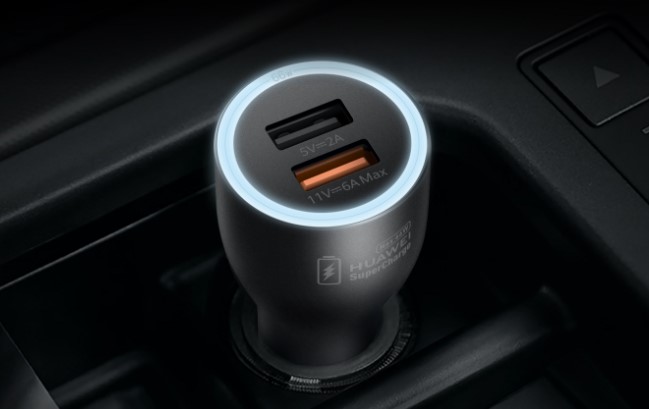 It also has two outputs, both of which have a combined output of 76W. However, only the orange port can output 66W as the black port maxes out at 10W. Below are the power output ratings for the ports:
Port 1 (Black) – 5V 2A
Port 2 (Orange) – 11V 6A, 10V 4A, 9V 2A, and 5V 3A
The charger has twelve-layer safety protection including ESD protection, over-voltage protection, and short circuit protection. Huawei ships a 6A USB-C cable with the car charger which we think is pretty generous.
EDITOR'S PICK: Huawei and ZTE are banned from 5G mobile networks in Sweden

Huawei SuperCharge Wireless Charger Stand (50W)
Your car is not the only place where you can enjoy Huawei's 50W SuperCharge Wireless Charging. You can also purchase the Huawei SuperCharge Wireless Charger Stand to charge your phone at up to 50W at home or at the office.
The charger which has a vertical design with a 60° tilt allows you to charge your phone or compatible device both in landscape and portrait positions. It features dual coils and a larger sensor area. Huawei also claims the charger automatically detects the time on your phone and switches to an ultra-silent mode at night (between 9 PM and 7 AM).
The Huawei SuperCharge Wireless Charger Stand (50W) has a 3D cooling air design to keep the fan and phone cool during charging. Other features include foreign object detection, overcurrent and overvoltage protection, and wide compatibility with several devices including the MatePad Pro, FreeBuds 3, FreeBuds Pro, and all Qi-compatible devices.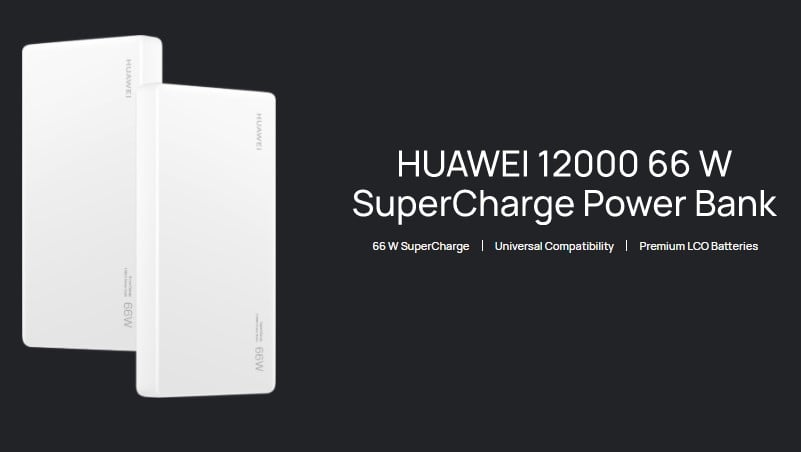 Huawei 12000 66W SuperCharge Power Bank
If you don't have a need for a car charger, then you can pick up the 66W SuperCharge Huawei announced today so you can charge your phone at the maximum power supported.
The Huawei 12000 66W SuperCharge Power Bank has three 4020mAh Lithium Cobalt Oxide batteries that make up its 12000mAh battery capacity (rated capacity is 6600mAh). The power bank has a USB-A output port and a USB-C output port that allow serves as the input port. There are four LEDs to indicate battery level.
The power bank not only supports 66W output but also 66W input, so you can use a 66W charger to refill it from empty to full in just 1.8 hours. Below are the power ratings for the power bank:
Supported Power Input Rating
Input port – 5V/3A, 9V/3A, 12V/3A, 15V/3A, 20V/3.25A(Max), 5V/4.5A, 10V/4A (Max), 11V/6A (Max)
Supported Power Output Rating
Port 1 – 5V/2A, 9V/2A, 12V/2A, 4.5V/5A, 5V/4.5A, 10V/4A (Max), 11V/6A (Max)
Port 2 – 5V/3A, 9V/3A, 12V/3A, 15V/3A, 20V/3.25A(Max), 5V/4.5A, 10V/4A (Max), 11V/6A (Max)
Huawei has designed the charger to charge not only phones but also compatible laptops. It also has a trickle charge mode for small devices such as smartwatches, earbuds, and smartbands.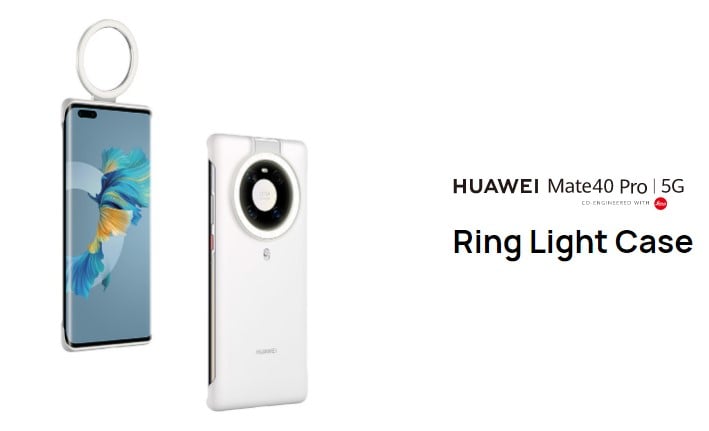 Huawei Mate 40 Pro Ring Light Case
The Huawei Mate 40 series has no shortage of cases but the most interesting one of them all is the Ring Light Case for the Mate 40 Pro.
This case which comes in Pearl White has a ring light that folds neatly at the back and can be turned on when you want to take a selfie or record a video in low light. The ring has a total of 52 LEDs which means it should pretty bright and great for vlogs.
There is a button on the back of the case that you can use to control the ring light. Apart from turning on the ring light, the button also allows you to switch between brightness level and light modes. There are three levels of brightness (low, medium, and high) and three light modes (mixed, cool, and warm).
Curious about how it is powered? The ring light case draws power wirelessly from your phone thanks to the Mate 40 Pro's support for reverse wireless charging.
Huawei is yet to reveal the prices of all these accessories save for the Mate 40 Pro Ring Light Case which is priced at €69.
ALWAYS BE THE FIRST TO KNOW – FOLLOW US!