In a bid to provide users with a more personalized experience, Google has introduced a new ringtone option for Pixel phone owners. With the recent update to the Sounds app, users can now enjoy a touch of smooth jazz on their devices. The update coincides with the launch of the Pixel 7a, Google's latest smartphone offering.
A new, jazzy option for jazz lovers
Traditionally, Google has released a fresh batch of ringtones whenever a new Pixel phone hits the market. However, this time around, they decided to focus on one standout ringtone: "Kenny Gingtone." As the name implies, this melodic ringtone channels the iconic sound of the renowned saxophonist Kenny G. It features the soothing tones of a saxophone playing smooth jazz, adding a touch of elegance to incoming calls.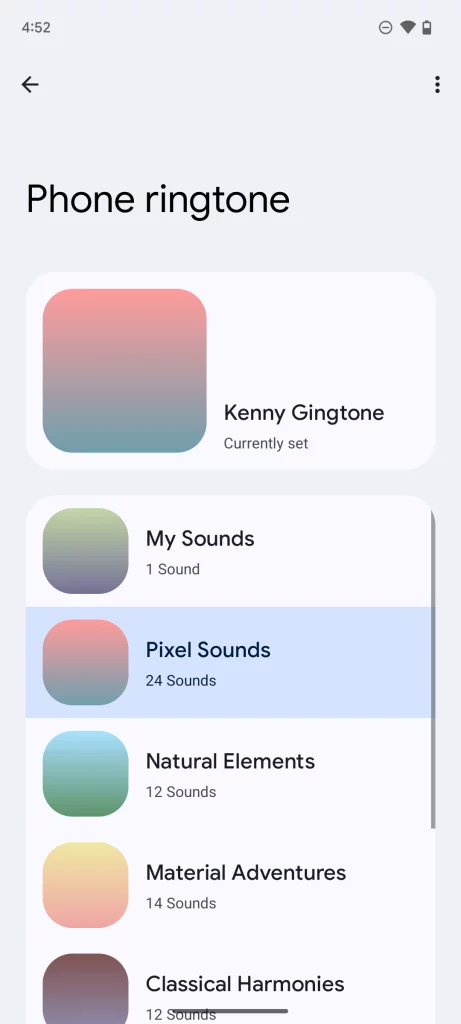 To access the Sounds app and set the new ringtone, Pixel users can navigate to Settings, then Sound & Vibration, and finally Phone Ringtone. If the Sounds app has been updated to version 3.1, you will find "Kenny Gingtone" listed under Pixel Sounds.
But that's not all that the Pixel 7a brings to the table. In addition to the new ringtone, it has also introduced a special vibration feature known as Adaptive alert vibration. Initially appearing in Android 13 QPR2 Beta 1, this feature automatically adjusts the intensity of vibrations for notifications and alarms, providing a more tailored experience for users.
With these new additions, Google continues to enhance the customization options for Pixel phone owners, allowing them to make their devices reflect their unique personalities and preferences. Whether it's through the smooth jazz ringtone or the adaptive vibration feature, users can now enjoy a little extra flair and individuality with their Pixel smartphones.
RELATED:
(Via)